Africa is well represented within the Commonwealth grouping of some 2.4 billion people who experienced British colonialism. To what extent does it benefit?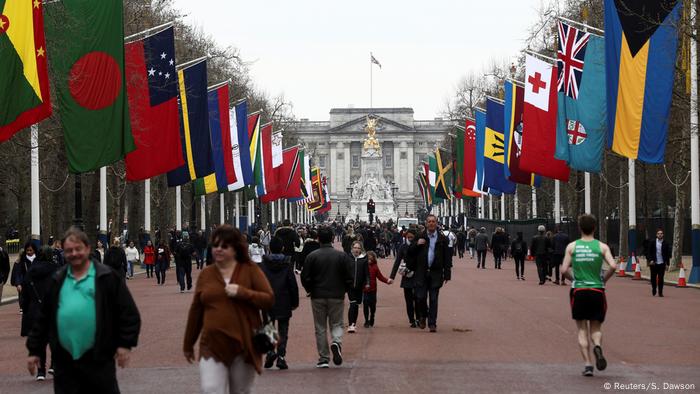 Commonwealth heads of government had barely touched down in London this week when apologies began rolling out of Downing Street.
Prime Minister Theresa May said Britain was "genuinely sorry" over its threats to deport the descendants of member nations, as the so-called Windrush scandal peaked.
Separately, it "deeply regrets" the legacy of laws that ban same-sex relations and fail to protect women and girls, she said.
With that out of the way, she opened the meeting at Buckingham Palace of leaders from across Africa, the Caribbean, Asia, the Americas, Europe and the Pacific and urged them to forge a future for common good.
There was an opportunity to show just what could be achieved though coordinated action, May said.
On the stage to the prime minister's left, Commonwealth of Nations official head Queen Elizabeth II was flanked by the likes of Nigeria's President Muhammadu Buhari, India's Prime Minister Narendra Modi and Rwanda's President Paul Kagame.
Queen hands top job to son
The monarch said she hoped the Commonwealth could continue to offer stability and continuity for future generations. The diverse collective of leaders looked on as she announced she would hand over the top job to her son Prince Charles.
The Gambia has been welcomed back into the fold after it had branded the organization an "extension of colonialism" and withdrew in 2013. Zimbabwe is also expected to seek re-admission under new leadership.
With 18 Commonwealth states, Africa dominates the 53-member organization that formed out of a crumbling British Empire in 1931. Most attained independence after centuries of British rule.
DW spoke to Asmita Parshotam, a researcher with the Economic Diplomacy Program at the South African Institute of International Affairs, about the relevance of the Commonwealth for Africa.
DW: How relevant is the Commonwealth for Africa today?
Asmita Parshotam: It is an important trade partner, investor and development partner in many African countries, the biggest being South Africa and Nigeria. Britain has also pushed for agricultural liberalization within the European Union, for example, to the benefit of African producers.
It is known for bearing Africa's interests within the EU and specifically from the agriculture context.
Britain, however, is no longer the only player with vested interests in Africa. It might have to give and take in ways that it might not be able to anticipate just yet.
I think Britain should be cautious and aware of the narrative of certain political factions of advancing the Commonwealth on the premise of imperial nostalgia and a desire to return to the "good old days." The last thing they want to reinforce is that they still see the Commonwealth as a group of countries under their influence rather than a group of peers with a shared history.
Britain could potentially become an important ally in contributing to Africa's development agenda through championing some of their issues at international fora.
What have been the major advantages of membership for African members in recent years?
I would say trade and investment, access to higher education opportunities and engagement with development assistance from the Commonwealth Secretariat, where necessary, and where a country can qualify.
How effective have the suspension of and sanctions against members by the Commonwealth, particularly Nigeria and Zimbabwe, been?
I think under Zimbabwe's former president Robert Mugabe's reign the relations were unsteady and he was known to make several damning statements against the British. The sanctions and exiting of Zimbabwe from the Commonwealth in 2003 did little to rebuild relations. We know now that Zimbabwe is planning to re-submit its application to join the Commonwealth later this year and this should move toward improving relations but also, more broadly speaking, removing Zimbabwe from its 'pariah' like status at a global level.
Nigeria is more interesting. Some countries have cited that it could actually become a key Brexit ally. Reports suggest that Nigeria is actually quite a big player within intra-Commonwealth trade: Nigeria has the largest economy in Africa, and 30 per cent of its exports reportedly go into the bloc's market. India alone, also accounts for 15 percent of Nigeria's exports. Nigeria is also the fifth largest economy in the Commonwealth, and with South Africa, represents about 70 percent of Commonwealth African trade.
What impact is the succession of Britain's Queen Elizabeth II by her son Prince Charles as head of the Commonwealth expected to have on the organization?
The question is whether he's really the best candidate. There seems to have been some disagreement as to whether he's modern enough to bring the Commonwealth into the 21st century. The other question is; If it's supposed to be a grouping of equal countries, why must the next head of the Commonwealth be someone from the monarchy and if that is really necessary, why not a modern young leader who understands that the Commonwealth is multi-cultural and multi-racial?
Brexit and the sentiment towards Europeans, the treatment of the Caribbean Windrush incident in recent weeks all shows how Britain is seemingly unable to handle a future that's totally different from the time that its colonies gained independence.
Are there any particular conflicts between the Commonwealth today in relation to other global political and economic groupings?
I wouldn't say conflict per se – but the world has definitely and absolutely moved on from the 1960s and post-colonial era of immediate independence. The world has becoming increasingly connected and there are other important and emerging players on the global front – notably China. I suspect Britain might have to fight harder than it expects to maintain its importance in the 21st century, trade and investment relations notwithstanding.
Brexit has increased Britain's need to be seen as an international global player with political clout in its own right, rather than as part of the EU but I suspect it might find it difficult to fully leverage this perceived power because it is stuck between a rock and a hard place – negotiating its exit from the EU, a major trading partner, and having a difficult partner in the United States under Trump's leadership that might not provide the kind of support it was hoping for. The face of global leadership is also changing – China is vying for the vacuum created by the US under Trump's leadership and whether Britain can compete with China in this respect is questionable.
Is there consensus within the Commonwealth on the migrant crisis?
This is a difficult issue to find consensus on internationally, let alone within the Commonwealth. However, it is on the Commonwealth's radar. It has featured as a point of discussion in past Commonwealth meetings.
Asmita Parshotam is a researcher with the Economic Diplomacy Programme at the South African Institute of International Affairs.
The interview was conducted by Benita van Eyssen.